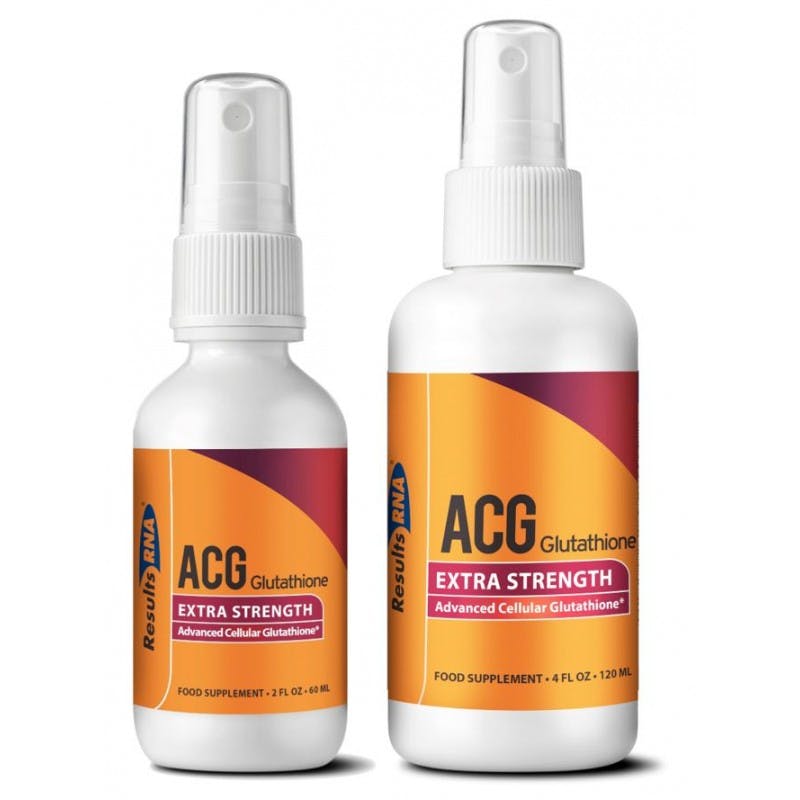  
ACG Glutathione® Extra Strength
The Leading Evidence-Based Glutathione Supplement Available.  Tests confirm that ACG can raise intracellular GSH levels by over 12% in 7hrs. Recommended by Garry F. Gordon MD, DO, MD (H), Lyn Hanshew, M.D, and Charles M. Scott, M.D.
The Leading Glutathione
"Extensive research confirms that supplementation of Glutathione is a crucial requirement for superior health, effective treatment and prevention of disease. Advanced Cellular Glutathione now makes oral supplementing possible."
Garry F. Gordon MD, DO, MD (H)
---
Epidemic Glutathione Deficiency
"There is an epidemic deficiency of glutathione in patients today. In fact, glutathione deficiency is found in almost all chronically ill patients."
Charles M. Scott, M.D. 
---
Glutathione is Critical
 Glutathione (GSH) is one of the most critical molecules of the entire body. As the most important intracellular antioxidant, GSH regulates all other antioxidants while preventing damage to important cellular components caused by reactive oxygen species, such as free radicals and peroxides. 
---
Remarkable Efficacy
A major advancement in Glutathione supplementation, Results RNA® has developed Advanced Cellular Glutathione (ACG). ACG Glutathione® Extra Strength is an intra-oral spray GSH that tastes great and has been proven by an independent clinical research firm to effectively increase intracellular levels of GSH by over 10% in only 7 hours.
---
Unsurpassed Science and Technology
"The technology and science behind ACG Glutathione® Extra Strength is exceptional and provides rapid, effectual results."
Lyn Hanshew, M.D.
---
Sub mucosal Absorption: Instant Bioavailability
The significant efficacy of Results RNA® intra-oral sprays such as ACG Glutathione®, Advanced Cellular Silver (ACS) 200® Extra Strength, Advanced Cellular Zeolite (ACZ) nano® Extra Strength, Joint Care® Intracellular and others is achieved by atomized spray delivery, sub mucosal absorption and the instant bioavailability of key molecules at the cellular level.
---
Enhance Your Practice with Superior Patient Outcomes
The capability now available to effectively supplement GSH intra-orally will be life-changing for your patients. They will benefit from the substantial health benefits of optimizing GSH levels and minimizing oxidative stress levels; all with a simple intra-oral spray protocol, without the risk of side effects.
Ingredients
Purified water,
L-Glutathione (Reduced) 9mg*,
N-Acetyl L-Cysteine(NAC) 6mg*,
Lipoic Acid (R-Fraction) 4.35mg*,
L-Carnitine 3.08mg*,
L-Glutamine 2.33mg*,
Peppermint Leaf (Mentha x Piperita) 0.13mg*, 
Anti-oxidant - Ascorbic Acid
Intra-oral Spray Dosage Guidelines
Maintenance Dose: Take 6 sprays by mouth 2 - 3 times daily
Higher Dose: Take 12 sprays by mouth 4 times daily.

For Best Results:
Take Results RNA® ACG Glutathione® with ACS 200® Extra Strength and ACZ nano® Extra Strength to achieve enhanced immune system support and ultimate body detoxification.

Purity and Quality Guaranteed:
ACG Glutathione® is produced under strict GMP manufacturing controls in conformance with guidelines for dietary supplements set forth in USP XXVII. For purity and quality, ACG Glutathione® contains no preservatives • no alcohol • no artificial coloring or flavoring.